Chicken Roll | A Snack Recipe.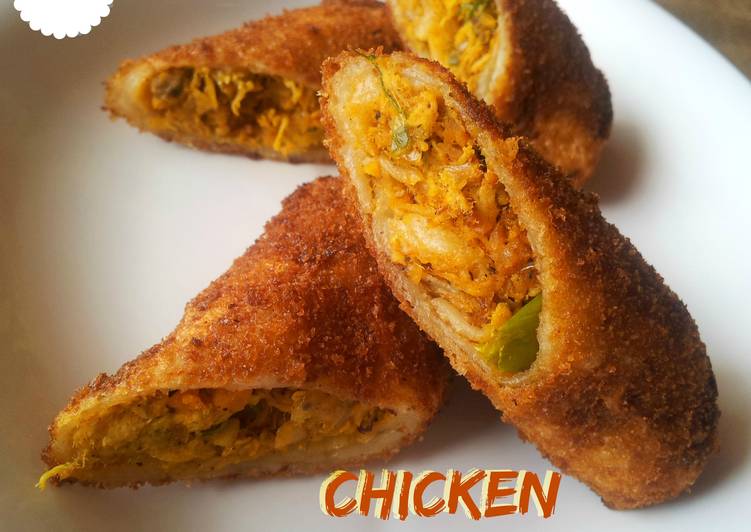 You can cook Chicken Roll | A Snack Recipe using 22 ingredients and 15 steps. Here is how you achieve that.
Ingredients of Chicken Roll | A Snack Recipe
It's of For Pancakes.
Prepare 2 cups of Maida All Purpose Flour / -.
It's 1 of Egg -.
You need of Salt – as needed.
Prepare of Water – as needed.
You need of For the filling.
You need 250 gms of Chicken Boneless -.
Prepare 1/4 Tsp + 1/2 Tsp of Turmeric powder -.
You need of Chilly Red powder – ( 1 Tsp + 3 Tsp).
Prepare of Pepper powder – ( 2 -3 Tsps).
It's 2 of Onion (Finely chopped)- medium.
Prepare 3 of Green chilli chopped -.
Prepare 2 Tsps of Ginger-garlic paste -.
Prepare 1/2 Tsp of Fennel seeds -.
Prepare 1/2 Tsp of Garam Masala -.
Prepare to taste of Salt -.
It's 2 – 3 Tbsps of Oil -.
You need of For Coating.
It's of Bread crumbs – as needed.
It's 2 or 3 of Egg beaten -.
It's of Maida – as needed (for the sealing and coating batter).
Prepare of Water – to make a paste.
Chicken Roll | A Snack Recipe instructions
Making filling.
Cook chicken in a kadai by adding 1/4 Tsp turmeric & 1 Tsp red chilly powder and salt with sufficient amount of water.Let it cook on a low flame till the meat is soft and all the water is absorbed. Cool it down and crush the cooked chicken in a chopper/food processor and keep aside..
Heat 3 Tbsp of oil in a pan, add finely chopped onion and saute till onion turns pink to light brown. Add ginger-garlic paste and green chilly. Saute till the raw smells leaves..
Now add 1/ Tsp turmeric powder, 3 Tsp red chilly powder, and and pepper powder. Saute for 2-4 minutes..
Now add crushed chicken,garam masala and fennel seeds to it. Saute till the masala becomes dry and the colour changes to dark brown. Allow this to cool down well before filling..
Making Pancakes.
Make a thin batter as for making a usual pancake batter..
Heat a non-stick frying pan or tawa and make pancakes..
Making the rolls.
Take a pancake. Place 1 Tbsp of the filling and fold from the sides and roll it..
Stick the sides with the maida paste made with maida and water. Arrange all the rolls..
Dip each rolls in the beaten eggs, and roll in the bread crumbs very carefully..
Heat oil for deep frying and when hot, make the flame to medium..
Now deep fry each of the rolls to golden brown..
Serve hot with tomato ketchup or any dip you wish..