Basil Pesto Pasta. Read Customer Reviews & Find Best Sellers. Penne pasta is tossed with basil pesto, mozzarella pearls, cherry tomatoes, Parmesan cheese, and black olives for a colorful and delicious pasta salad. By truRoots(R) Sponsored By truRoots In a food processor or blender, combine the basil leaves, Parmesan cheese, garlic, toasted pine nuts, kosher salt and pepper.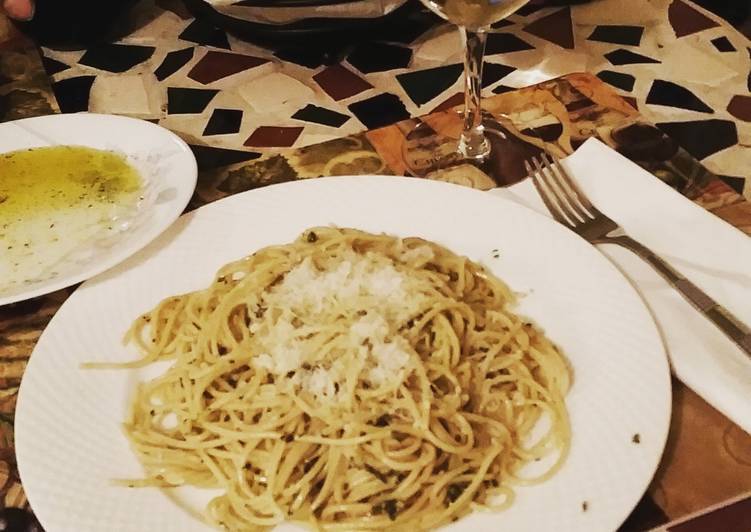 Add pesto sauce, salt, pepper, boiled pasta, tomatoes and mix. It enhances the flavor for all dishes like steak, chicken, fish, vegetables, and pasta! After the ingredients are combined and formed into a tube shape, simply slice whatever size portion you need and freeze the rest! You can cook Basil Pesto Pasta using 8 ingredients and 6 steps. Here is how you achieve that.
Ingredients of Basil Pesto Pasta
You need 2 cup of Fresh Basil (packed).
You need 2 clove of Garlic.
It's 1/4 cup of Pignoli Nuts (pine nuts).
Prepare 1 cup of olive oil, extra virgin.
It's of Salt & Pepper.
You need 3/4 cup of parmesan cheese.
Prepare 1 lb of thin spaghetti.
You need 1 1/2 cup of boiling water (pasta water).
Easy-breezy to prepare and bursting with flavor! While pasta is cooking, add the roughly chopped garlic, toasted pine nuts and finely grated parmesan cheese to a food processor and process until smooth. Toss to coat pasta in pesto, adding more water if required to make pasta silky and saucy, rather than dry and sticky. Taste, add more salt and pepper if desired.
Basil Pesto Pasta step by step
Blend Garlic Cloves and Pignoli nuts in food processor.
Add 1/2 cup of extra virgin olive oil and 1 cup packed basil, blend..
When smooth, add remaining olive oil and basil and blend..
When completely blended smooth, transfer pesto into medium sized bowl and add Parmesan Cheese, Salt & pepper to taste. Mix until smooth..
For best results: When pasta is finished cooking, pour hot water into a small bowl. Strain pasta, return to pot with hot water (about a cup) and mix. Then add pesto sauce and finish mixing until desired consistency..
Enjoy !! 😋🍴.
Serve immediately, garnished with fresh parmesan. This Pesto Pasta recipe (also known as pasta al pesto) is a great way to use all the delicious fresh basil growing in your garden and available at the farmer's market! It's an easy weeknight meal that the whole family will love! This Pesto Pasta calls for making your own pesto sauce, but don't let that intimidate you! I made this according to instructions, and while a good basic pesto pasta recipe, there was something missing.