Vegan Pesto Fettuccine. Add garlic, salt, pepper, and almond meal to the blender and blend until completely incorporated. Boil salted water and cook spaghetti according to packaging instructions. How to finish Creamy Vegan Pesto Pasta.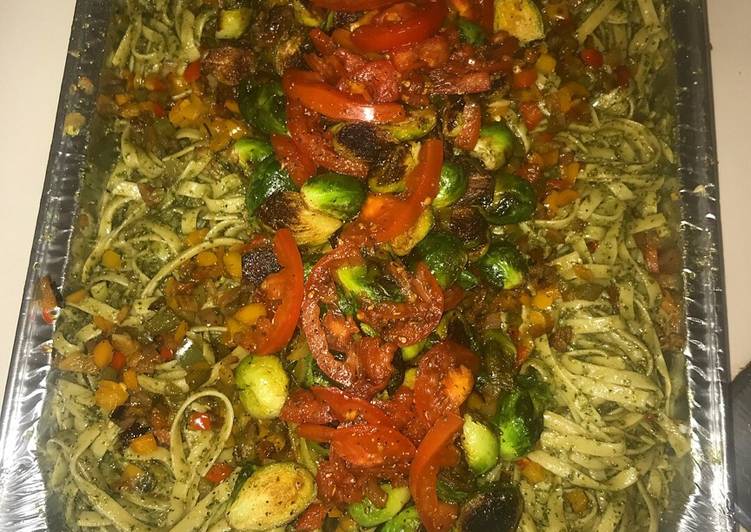 How to Make Vegan Pesto Pasta Prepare the pasta – In a large pot, boil the pasta in salt water. Make the pesto – In a blender, combine basil, olive oil, pine nuts, and garlic. Of course, fresh basil is essential in a pesto sauce, but in this vegan pesto pasta recipe, the beans provide the creaminess. You can cook Vegan Pesto Fettuccine using 18 ingredients and 6 steps. Here is how you cook that.
Ingredients of Vegan Pesto Fettuccine
Prepare of Homemade Basil Pesto.
Prepare of Brussel Sprouts.
It's of Whole Grain Pasta.
Prepare of Tomatoes.
It's of Balsamic Vinegar.
It's of Red onion.
Prepare of Red pepper.
It's of Green pepper.
It's of Yellow pepper.
Prepare of Oregano.
Prepare of Sea salt.
It's of Coconut oil.
It's of Lemon pepper.
You need of Juice of a lemon.
Prepare of Fresh basil.
Prepare of Garlic.
You need of White onion.
It's of Black Pepper.
Place the basil, pine nuts, garlic, lemon juice, nutritional yeast and salt into the base of a food processor. Pulse until mostly chopped, then with the motor running, drizzle in the olive oil until a chunky pesto forms. Season to taste, adding more salt as desired. While you're waiting for the veggies and pasta to cook, whip up a batch of our vegan parmesan and vegan basil pesto.
Vegan Pesto Fettuccine step by step
Boil water for noodles. Wash vegetables. Peel onions..
Dice garlic, red onion, green, yellow, red and orange peppers. Slice Brussel sprouts in half..
Slice tomatoes once, and then cut slices in half. Put tomato pieces in a bowl. Pour balsamic vinegar on tomatoes to soak for full absorption. Sprinkle oregano and sea salt on to tomatoes. Put aside for later..
Pour coconut oil in fry pan. Heat on medium high. Place Brussel sprouts faced down in one single layer into the oil. Brown them, flip once, Brown the other side. Cover with lid for 5 minutes. When done, pour into a bowl. Squeeze a fresh lemon into Brussel sprouts. Season with lemon pepper, onion powder, sea salt and garlic powder..
Pour coconut oil in pan. Heat to medium high. Add all diced peppers, and red onions. Sauté until brown sear. Sprinkle sea salt..
Create Pesto Sauce.
When the pasta is done, drain it, then add it back to the same pot you cooked it in. Mix in the cooked vegetables, arugula, and pesto, and combine well. Serve the pasta with a side of sun-dried olives and vegan parmesan on top. Dry Pasta: I used a gluten-free rotini for this recipe, but glutinous pasta will work as well. I recommend sticking with shorter pasta shapes to prevent breakage in the oven, but shells, macaroni, or penne would also work here.