WHEAT SPAGHETTI IN BEETROOT PESTO, FETA CHEESE SALAD,. Blend Beetroot with garlic, olive oil, lemon juice, chilli flakes, and a pinch of salt. They typically have more protein and fiber than regular wheat flour pasta. Summer just screams light and quick meals to me, and this Pesto Pasta Salad fits the bill perfectly.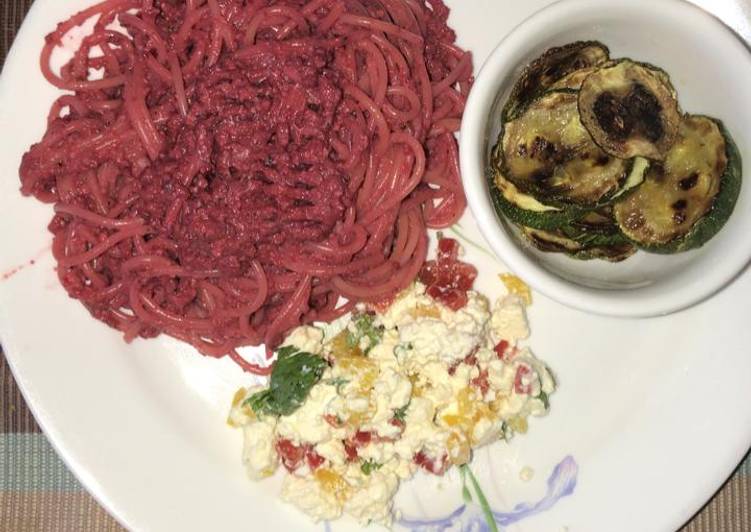 Place in a shallow roasting pan. For this simple beetroot feta salad with pasta I roasted the beets along with the feta for extra flavour. This method produces fantastic results and is incredibly easy. You can cook WHEAT SPAGHETTI IN BEETROOT PESTO, FETA CHEESE SALAD, using 23 ingredients and 20 steps. Here is how you cook it.
Ingredients of WHEAT SPAGHETTI IN BEETROOT PESTO, FETA CHEESE SALAD,
Prepare of Wheat Spaghetti In Beetroot Pesto.
It's 1 cup of boiled wheat spaghetti.
You need 2 of medium sized beetroots.
It's 1/3 cup of pine nuts.
Prepare 4 cloves of garlic.
You need 4 tbsp of fresh parsley.
Prepare 1 tbsp of lemon juice.
It's 2 tbsp of olive oil.
You need to taste of Salt.
It's of Stir-Fry Zucchini.
Prepare 2 of Whole Zucchini cut into 1/4 inch rounds.
Prepare 1 tsp of Olive Oil.
It's Pinch of pepper.
It's to taste of Salt.
Prepare of Feta Cheese Salad.
It's 1/4 cup of each red and yellow bell peppers cut into bite size.
It's 100 gms of feta cheese.
Prepare 1 of cucumber diced.
You need 1 tsp of oregano.
Prepare 1/4 tsp of black pepper.
You need 1 tsp of white vinegar.
Prepare to taste of Salt.
Prepare As needed of parsley for garnish.
Just chop the beetroot, crumble the feta, drizzle with a little oil and bake! Why you will love this recipe Feta is a healthy option for a salad, I really fancied doing something different with it and thought I would have a go of baking it. I love the new texture the feta has, it's warm, fluffy and slightly gooey but still holds it shape. Place the beets in a "foil basket" with the olive oil and balsamic vinegar.
WHEAT SPAGHETTI IN BEETROOT PESTO, FETA CHEESE SALAD, step by step
FOR Wheat Spaghetti In Beetroot Pesto.
Boil beetroot in salt + (a teaspoon of) turmeric water in a pressure cooker for about 15 minutes..
Then peel the skin of boiled beetroot and chop it roughly..
Toss them into a blender..
Add pine nuts, chopped garlic, fresh parsley, salt, lemon juice and olive oil and blend it into a smooth paste..
Transfer this pesto sauce into a non stick pan, add spaghetti, salt and toss it on a medium flame..
Serve hot..
FOR Stir-Fry Zucchini.
Heat a non-stick pan. Drizzle half tsp olive oil and spread the cut zucchini separately..
Flip one by one till they become brown on both sides..
Add half tsp olive oil all over..
Add pepper and salt..
Toss lightly..
Serve hot.
FOR Feta Cheese Salad.
Put the cut vegetables in a bowl..
Add crumbled feta cheese.
Add oregano, pepper, salt and white vinegar..
Toss well..
Garnish with parsley and serve..
Cook spaghetti in salted water according to package directions. Drain and add to a big bowl. Stir in pesto sauce and oil if using. Sprinkle with herbs, garlic, pepper to taste. Now add in the cherry tomatoes and feta.