Pesto Pasta. Explore The Various Categories Of Recipes With Gourmet Garden™. Follow The Easy Steps And Try The Whole Range Of Recipes With Your Loved Ones! Penne pasta is tossed with basil pesto, mozzarella pearls, cherry tomatoes, Parmesan cheese, and black olives for a colorful and delicious pasta salad.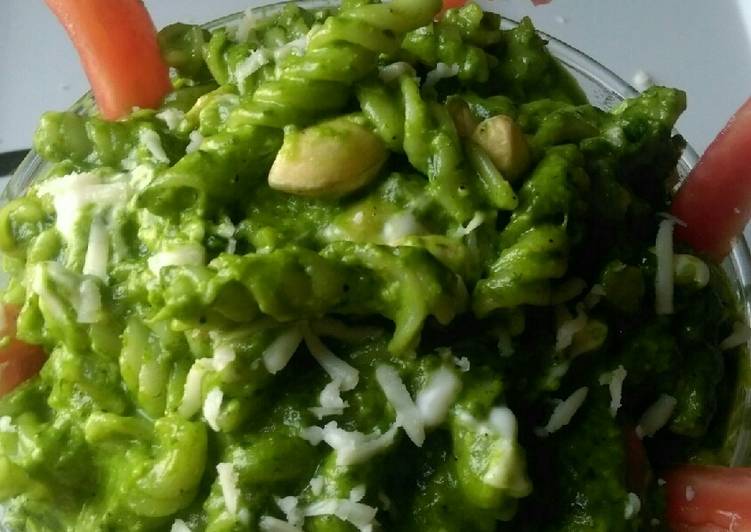 Meanwhile, in a blender or food processor, place the basil, parsley, Parmesan cheese, salt, garlic and nutmeg. Toss to coat pasta in pesto, adding more water if required to make pasta silky and saucy, rather than dry and sticky. Taste, add more salt and pepper if desired. You can cook Pesto Pasta using 14 ingredients and 6 steps. Here is how you cook it.
Ingredients of Pesto Pasta
It's 2 cups of Fusilli Pasta.
You need 2 cup of Basil leaves.
Prepare 1 cup of spinach leaves.
It's 50 gm of freshly grated parmesan Cheese.
Prepare 1/2 cup of Cashewnuts.
Prepare 1 tbsp of Olive oil.
You need 1/2 tsp of Black pepper.
You need 3 of Garlic cloves.
It's 1/2 of Onion finely chopped.
You need 1 of Green chilli chopped.
It's 1 tsp of lemon juice.
You need 1 tsp of honey(optional).
Prepare 1/2 tsp of Salt.
You need 1 tbsp of Cream.
Serve immediately, garnished with fresh parmesan. In the bowl of a food processor fitted with a steel blade, puree the pesto, spinach, and lemon juice. Add the pesto mixture to the cooled pasta and then add the. Some sources claim that, when served with potatoes and green beans, pesto pasta is known as avvantaggiato, which I might very loosely translate as "tricked out"—the idea being that those additional ingredients are a bonus.
Pesto Pasta instructions
Boil pasta in water with 1 tsp salt and 2 tsp oil till al dente.Drain it and cool..
Take spinach leaves, basil leaves, garlic cloves, ginger piece,onion,green chilli, olive oil,little salt and half of the cheese..
Blend it very well till smooth consistency.Pesto sauce is ready..
Heat 1 tbsp oil in a wok.Put boiled pasta.Add pesto sauce and cook it for 2 min on slow flame.Toss the pasta well..
Stir in rest of the cheese.Squeeze over the lemon juice. Dash cream and honey..
Serve..
Instructions In a food processor or blender, combine the basil leaves, Parmesan cheese, garlic, toasted pine nuts, kosher salt and pepper. Pulse the ingredients together until well blended. While the food processor or blender is running, drizzle in the olive oil and continue blending, scraping down the sides as needed, until the pesto is puréed. Add pasta and ¼ cup pasta cooking liquid. Using tongs, toss vigorously, adding more pasta cooking liquid if needed.