Vegan kale and avocado pesto pasta. This creamy avocado pesto pasta has lots of fresh basil, garlic, and lemon. We top it with crispy shards of roasted kale and a little sprinkle of homemade vegan "parmesan." I used a lentil-based pasta to bring some quick plant-based protein into the picture. With nutritious kale, heart-healthy avocado and walnuts, making a tasty, filling and nutritious meal could not be easier!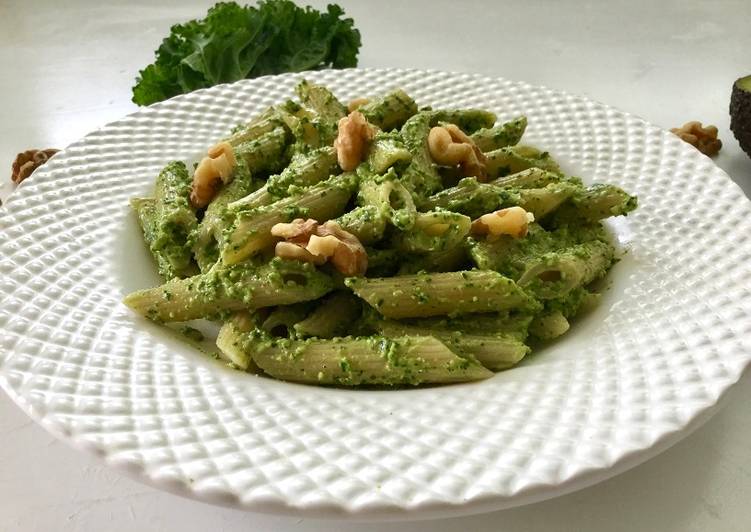 A super healthy but comforting vegetarian and vegan pasta dinner! Source link This pesto freezes beautifully, making it the perfect emergency response to having more ripe avocados than you can eat at one time. This embarrassment of riches doesn't seem possible, but it does happen. You can cook Vegan kale and avocado pesto pasta using 10 ingredients and 7 steps. Here is how you cook that.
Ingredients of Vegan kale and avocado pesto pasta
You need 2 cups of penne pasta.
Prepare 2 cups of packed, roughly chopped kale leaves (washed and drained).
You need 1 of large ripe avocado.
You need 1/4 cup of walnuts.
It's 1 of small lemon/lime or half a large lemon/lime juice.
Prepare 2 cloves of garlic, peeled and chopped.
You need 1 of large green chili/jalapeno pepper (or crushed red chilies); optional.
You need 3 tablespoons of Extra Virgin Olive oil (or more according to personal preference).
Prepare to taste of Salt.
You need of Freshly ground black pepper (optional; I have used only green chilies).
VEGAN PESTO WITH AVOCADO AND KALE. A healthy, light, and fresh pesto recipe. A healthier take on traditional pesto, this avocado pesto sauce is vegan and oil-free! This is the Best Vegan Kale Pesto – it's lemony, garlicky, and completely delicious!
Vegan kale and avocado pesto pasta instructions
Cook pasta according to package instructions; al dente. Keep aside a cup of pasta water and drain, rinse with cold water and keep aside. Make sure to salt the water well..
TO MAKE THE PESTO: In a food processor fitted with a metal blade, combine the chopped kale, avocado chunks, chopped garlic, walnuts, salt, lemon juice and green chili..
Drizzle olive oil through the open chute on top and blitz until fully combined, scraping the sides of the processor in between. Do a taste test and add lemon juice, salt or oil if needed. Make a slightly coarse paste..
Remove to a bowl and keep aside..
Just before serving, stir in as much of the kale avocado pesto into the pasta and enjoy warm or at room temperature showered with more walnuts! If needed, stir in some of the pasta water to thin the pesto sauce. Enjoy foodies!.
Notes Leftover pesto sauce can be stored in an airtight glass jar for up to 3 to 4 days. To store for a longer time, drizzle some oil over the pesto sauce to prevent the top from browning. Pestos are not only for pastas; you can use them up in sandwiches, as dips, on pizzas (instead of tomato sauce), in salads etc. Use any kind of pasta you love; it could be spaghetti, macaroni, spiral, rigatone, shell etc. Instead of walnuts, you can use cashews, sunflower seeds, almonds etc..
For best results and taste, use EVOO (extra virgin olive oil) but if you cannot find it, regular refined oil will do. If you love cheese, stir in 1/4 cup of Parmesan cheese while making the pesto and serve with a sprinkle of more Parmesan!.
Not only is it super delicious, but it's customizable, versatile, and nutritious. If I'm feeling like I'm not getting enough greens, I'll make a pesto to put on whole wheat or chickpea noodles. Once the kale and garlic are done, add them to a blender or a food processor. Blend until completely smooth, scraping down sides as needed. Return the pasta to the pot, scoop the pesto into the pot and toss to coat the pasta.