Cheesy Tater Tot breakfast casserole. The Same Golden, Crispy Hash Browns You've Always Loved. This is a recipe for a cheesy Tater Tot® breakfast casserole we whipped together for the family with both our hearts and tummies on Christmas morning. Get it really nice and crispy, let the oil drain, and crumble away.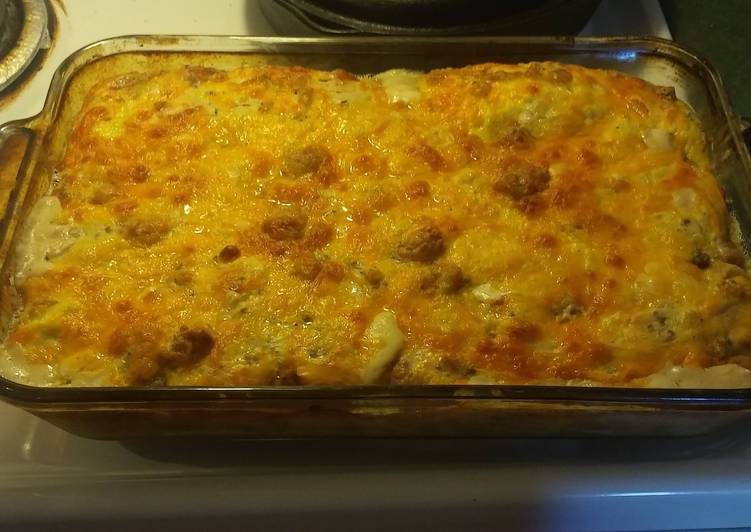 Season lightly with salt and pepper. Add the olive oil to a large skillet over medium heat. Add the sausage and onion and cook, breaking the sausage up with a wooden. You can cook Cheesy Tater Tot breakfast casserole using 7 ingredients and 1 steps. Here is how you achieve it.
Ingredients of Cheesy Tater Tot breakfast casserole
Prepare 12 of eggs.
You need 1 of small block of Velveeta cheese cubed.
It's 3/4 bag of tater tots.
You need 1 of tube of Jimmy Dean sausage ground.
Prepare 1 pack of hickory smoked bacon chopped.
It's 2 can of sausage gravy of your choice.
You need 8 oz of bag of cheddar cheese.
Whisk together eggs, Monterey Jack cheese, milk, salt, and pepper in a large bowl. Pour egg mixture evenly over Tater Tots. Easy & Cheesy Tater Tot Breakfast Bake with Sausage and Bacon This is like an ultimate breakfast casserole – there's sausage, bacon, eggs, cheese, and hash browns (tater tots are basically hash browns). If you served it over pancakes or waffles, you would have nearly every delicious breakfast element.
Cheesy Tater Tot breakfast casserole step by step
Cook tater tots on 450°F for 20 minutes or until golden brown.. Brown your chopped bacon and your Jimmy Dean sausage till done.. Place in baking dish.. and add tater tots Velveeta cheese mix together gently.. spread sausage gravy evenly on top.. Pour your eggs over take Fork gently pull apart so egg go's all the way through.. Spread cheddar cheese on top bake at 350°F for 40 to 45 minutes or until done.
This easy, cheesy Tater Tot Breakfast Casserole is filled with flavorful eggs, sausage & cheese, topped with crispy tater tots & MORE CHEESE! I like to turn the broiler on for a few minutes at the very end to make sure the tater tots get nice and crispy. Whisk together eggs, green chiles, salt, and pepper and then pour that into the casserole dish. Arrange some tater tots in an even layer of the top and pop the dish in the oven. In a large bowl, mix the cream of chicken soup, sour cream, melted butter, garlic powder, and onion powder.