Vegan raw mango cheese cup cakes. Pour over the filling mixture and even it out with the back of a knife or flat spatula. The divinely creamy mango filling is a mix of mango, fresh turmeric, fresh ginger, lime, and creamed coconut. Add the cacao nibs, cashew butter, vanilla extract, and salt and process a few times until combined.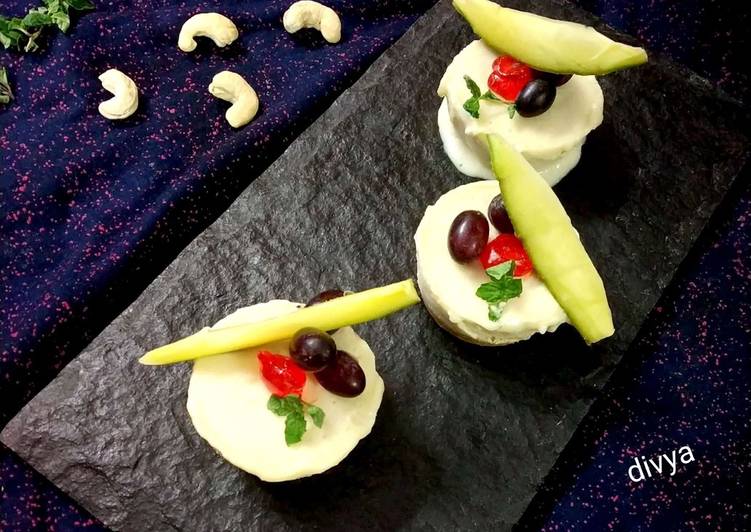 In a small pot gently melt coconut butter, coconut oil and maple syrup stirring frequently. Set aside and leave to cool down for a bit while preparing the mango. Peel mango, turmeric and ginger and place into a blender with lime juice and cinnamon. You can have Vegan raw mango cheese cup cakes using 8 ingredients and 5 steps. Here is how you cook it.
Ingredients of Vegan raw mango cheese cup cakes
It's 1 cup of raw mango pieces.
You need 1 of cupnsoaked cashew.
It's 3 tsp of honey.
You need 1 cup of sugar powder.
You need 1 cup of cream cheese.
It's 1 tsp of gelatin.
It's 1 cup of biscuit crumbs.
It's 2 tsp of butter.
The secret behind the successful raw cheesecake is to use a lot of fruits and to find the right balance on the texture by using coconut oil and cacao butter, but to also mix enough that you get a creamy texture on the filling. Add in mango puree and bake into cupcakes or Cake. Blend the cashews, melted coconut oil, maple syrup, milk, vanilla, and stevia drops until you have a very creamy consistency. If you have never tried a raw cheesecake you will be shocked at the burst of flavor, and silky sensuous texture when you first bite into it.
Vegan raw mango cheese cup cakes step by step
Take a bowl put biscuit crumbs,add melted butter mix well put in cup cake mould give flat surface..then Take a blender put cashew,raw mango pieces,honey blend nicely.
Take a bowl put cream cheese,add sugar powder beat continuously until it get creamy texture then add raw mang blended puri.
Mix well add melted gelatin beat again for 2 to3mins,then transfer on top of biscuit base.
Keep in fridge for 2 to 3 hours then take out.
Finally garnish with cherry,raw mango pieces ready to serve vegan raw mango cheese cakes.
What is better then a raw cheese cake? A tiny raw cheesecake that you can cut into itty bitty little slices and eat with a teaspoon, and then cut yourself another. Add the vegan cream cheese, butter and powdered sugar to a bowl. Spread the frosting onto the cooled cake and decorate with mango if desired. Full recipe on EDS: http://www.eatdrinkshrink.com/sweets/mango-cheesecake Links: Website: www.