🍓🍇🍍🍌🍊🍒 classic fruit tart 🍒🍊🍌🍍🍇🍓. Simply the best ever classic fruit tart recipe! This stunning fruit and berry tart is made with a classic homemade tart crust, a fluffy cheesecake-style filling, homemade lemon curd and loaded with tons of fruit on top! Nothing beats all of that goodness combined!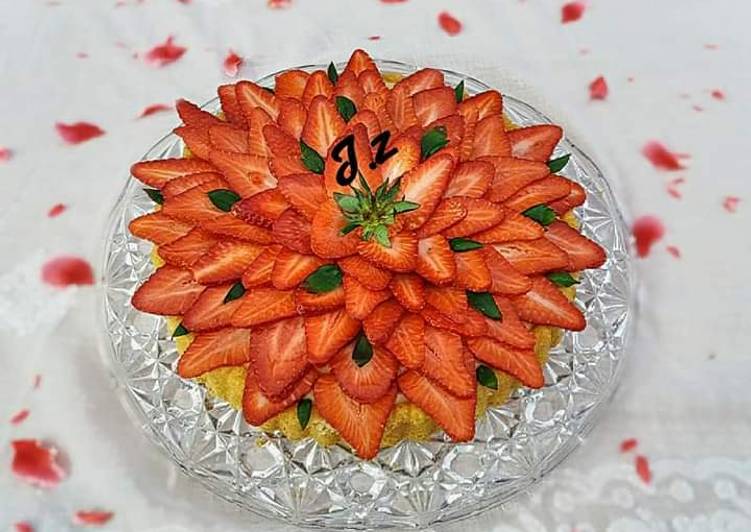 A classic fruit tart is made with a shortbread crust (also known as sable breton) and a custard filling that is a traditional vanilla pastry cream. The tart is then topped with fresh fruit and glazed with a simple fruit glaze to create a beautiful shiny finish. In a large bowl, whisk together flour, sugar, and salt. You can have 🍓🍇🍍🍌🍊🍒 classic fruit tart 🍒🍊🍌🍍🍇🍓 using 17 ingredients and 12 steps. Here is how you cook that.
Ingredients of 🍓🍇🍍🍌🍊🍒 classic fruit tart 🍒🍊🍌🍍🍇🍓
Prepare of Sweet Pastry Crust.
You need 1 of & 1/2 cups (195 grams) all purpose flour 1/8 teaspoon salt.
Prepare 1/2 cup (113 grams) of unsalted butter, at room temperature.
You need 1/4 cup (50 grams) of granulated white sugar.
It's 1 of large egg, lightly beaten.
It's of Pastry Cream.
You need 1 of & 1/4 cups (300 ml) milk.
Prepare 1/2 of vanilla bean, split lengthwise Or.
Prepare 1 teaspoon of pure vanilla extract or vanilla bean paste.
You need 3 of large egg yolks 1/4 cup (50 grams) granulated white sugar.
You need 2 tablespoons (20 grams) of all-purpose flour.
It's 2 tablespoons (20 grams) of cornstarch (corn flour).
Prepare of Apricot Glaze (optional).
Prepare 1/2 cup (120 grams) of apricot jam or preserves 1 tablespoon water.
Prepare of Topping.
You need 3 cups (720 ml) of fruit (raspberries, blackberries, strawberrys.
It's of blueberries, kiwifruit, bananas, plums, pineapple, melon, etc.).
Add melted butter and almond extract and stir until dough forms. Arrange fruit into a pattern on top of the pastry cream. Microwave the apricot jam and water in a small bowl until warm. Serve immediately, or refrigerate for a day before serving.
🍓🍇🍍🍌🍊🍒 classic fruit tart 🍒🍊🍌🍍🍇🍓 step by step
#Sweet_Pastry_Crust: In a separate bowl, whisk the flour with the salt. Place the butter in the bowl of your electric mixer, or with a hand mixer, and beat until softened. Add sugar and beat until light and fluffy. Gradually add the beaten egg, beating just until incorporated. Add the flour mixture all at once and mix just until it forms a ball..
Flatten the pastry into a disk, cover with plastic wrap, and refrigerate for 15-30 minutes or just until firm (can place in freezer for about 10-15 minutes.) Lightly butter and flour, or spray with a non-stick vegetable/flour cooking spray, an 8 – 9 inch (20 – 23 cm) tart pan with a removable bottom. Evenly pat the chilled pastry onto the bottom and up the sides of the pan. Cover with plastic wrap and place in the freezer for about 15 minutes..
Meanwhile, preheat oven to 400 degrees F (205 degrees C) and place rack in center of oven. Lightly prick bottom of pastry crust with the tines of a fork (this will prevent the dough from puffing up as it bakes). Place tart pan on a larger baking pan and bake crust for 5 minutes. Reduce oven temperature to 350 degrees F (180 degrees C) and continue to bake the crust for about 15 minutes or until dry and lightly golden brown..
Remove from oven and place on a wire rack to cool completely before filling. Can be covered and stored for a few days..
#Pastry_Cream: In a medium-sized heatproof bowl, mix the sugar and egg yolks together. (Don't let the mixture sit too long or you will get pieces of egg forming.) Sift the flour and cornstarch (corn flour) together and then add to the egg mixture, mixing until you get a smooth paste..
Meanwhile, in a saucepan bring the milk and vanilla bean just to boiling (just until milk starts to foam up.) Remove from heat and add slowly to egg mixture, whisking constantly to prevent curdling. (If you get a few pieces of egg (curdling) in the mixture, pour through a strainer.) Remove vanilla bean, scrape out seeds, and add the seeds to the egg mixture..
(The vanilla bean can be washed and dried and placed in your sugar bowl to give the sugar a vanilla flavor.) Then pour the egg mixture into a medium saucepan and cook over medium heat until boiling, whisking constantly. When it boils, whisk mixture constantly for another 30 – 60 seconds until it becomes thick..
Remove from heat and immediately. (Stir in vanilla extract is using instead of a vanilla bean.) Pour into a clean bowl and immediately cover the surface with plastic wrap to prevent a crust from forming. Cool to room temperature. If not using right away refrigerate until needed, up to 3 days. Beat or whisk before using to get rid of any lumps that may have formed..
#Apricot_Glaze: Heat the apricot jam or preserves and water in a small saucepan over medium heat until liquid (melted). (Can also heat in the microwave.) Remove from heat and strain the jam through a fine strainer to remove any fruit lumps..
#To_Assemble_Tart: To remove the tart from the fluted sides of the pan, place your hand under the pan, touching only the removable bottom not the sides. Gently push the tart straight up, away from the sides. The fluted tart ring will fall away and slide down your arm. If you want to remove the bottom of the pan, run a knife or thin metal spatula between the crust and metal bottom, then slide the tart onto your platter..
Spread a thin layer of apricot glaze over the bottom and sides of the baked tart shell to prevent the crust from getting soggy. Let the glaze dry (about 20 minutes). Then spread the pastry cream onto the bottom of the tart shell. Place fruit randomly on top of cream or in concentric overlapping circles, starting at the outside edge..
After arranging the fruit, rewarm the glaze, if using, and gently brush a light coat on the fruit. If not serving immediately, refrigerate but bring to room temperature before serving. This fruit tart is best eaten the same day as it is assembled. Cover and refrigerate any leftovers. Serves about 6-8 #Suggestion: also you can buy them sweet pastry shell or flan case bought it from the supermarket..
This is the classic fruit tart, which is my most requested dessert for birthdays or celebrations. I've customized this recipe plenty of different ways to suit the occasion/season, and it's always a favorite. Tarte tatin is a classic French dessert, essentially an upside-down pie. Pears are caramelized in a sugar-butter mixture in an oven-safe skillet, covered with crust, and baked in the oven.. A tart is a sweet or savory dish made from pastry dough with a firm, crumbly crust.