Easy Caramel Popcorn. Place popcorn in a very large bowl. Stir in brown sugar, corn syrup and salt. Put the popped corn in a large bowl.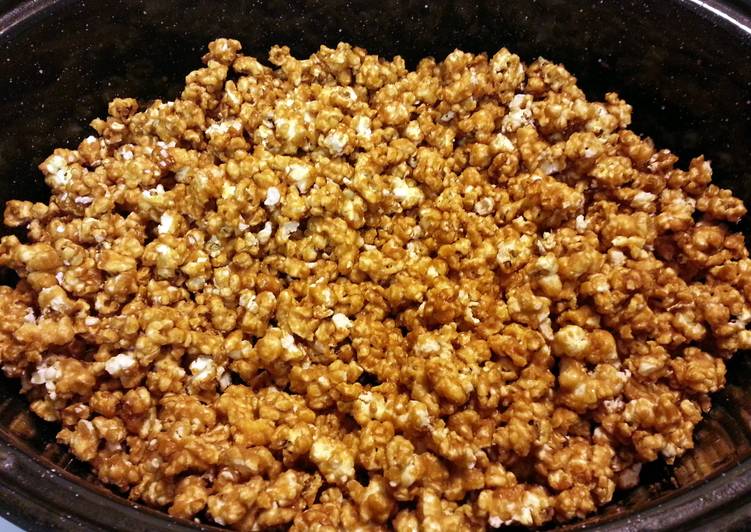 We pop our popcorn on the stove (you can find our directions on How to Make Perfect Popcorn here) but you can use air-popped or microwave. Stirring continuously, bring the butter and sugar mixture up to a boil on medium heat. Spray large shallow roasting pan with cooking spray. You can cook Easy Caramel Popcorn using 8 ingredients and 5 steps. Here is how you achieve that.
Ingredients of Easy Caramel Popcorn
You need 2 cup of Peanuts (optional).
You need 2 packages (3.5 oz) of Microwave Popcorn (Popped & Remaining Kernels Removed).
It's 2 cup of Brown Sugar.
You need 1 cup of Margarine or Butter.
Prepare 1/2 cup of Corn Syrup.
Prepare 1 tsp of Vanilla Extract.
You need 1 tsp of Salt.
Prepare 1/2 tsp of Baking Soda.
How to make caramel popcorn: Melt butter in a large non-stick skillet over medium heat. Once melted, stir in brown sugar, corn syrup, and salt until smooth. Bring to a boil over medium heat, stirring occasionally. Baking soda in Caramel Popcorn Just before the caramel sauce is ready to be poured onto the popcorn, baking soda is added.
Easy Caramel Popcorn instructions
Preheat oven to 250°F.
Place popcorn & peanuts (optional) in a large roasting pan. Place in preheated oven to keep warm..
In a medium saucepan, over medium heat, melt butter or margarine. Stir in brown sugar, corn syrup, & bring to a boil. Continue boiling for 5 minutes. Remove from heat, stir in vanilla extract, salt, & baking soda; mixing well. The caramel should be light & foamy..
Pour caramel over popcorn & mix until well coated..
Bake in the oven for 1 hour, stirring every 15 minutes. Remove pan from oven & allow popcorn to cool. Break into pieces & store in an airtight container..
This causes the caramel to get bubbly and foamy, filling it with air and making it easier to coat all of the popcorn. Once the caramel has cooled on the popcorn, the air bubbles inside the caramel create a softer texture. Place popped corn in brown bag. Pour over popcorn in bag and shake well. Make popcorn and place in a large bowl.