Coconut rice pudding. In a large saucepan, combine the rice, water, brown sugar, butter, cinnamon, salt and lemon zest. Stir in the milk, condensed milk, coconut milk, raisins and vanilla. Stir together milk, water, rice, and sugar in a medium saucepan over medium.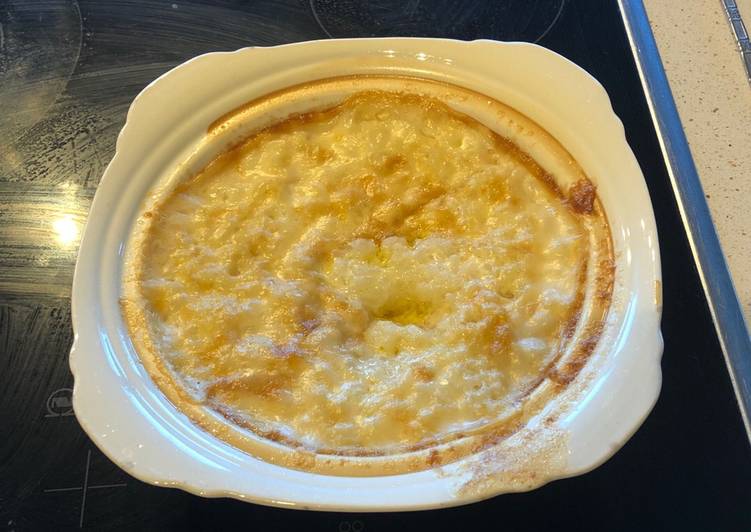 This super creamy rice pudding, that happens to be vegan too, is total comfort food with a tropical twist. Coconut milk not only makes it rich and creamy, but adds that tropical taste to it, which is just enhanced with the sweet caramelised pineapple on top. Easy Coconut Rice Pudding combines coconut milk and cooked Minute Instant Jasmine Rice in a thick, creamy pudding. You can cook Coconut rice pudding using 6 ingredients and 4 steps. Here is how you cook that.
Ingredients of Coconut rice pudding
Prepare 100 g of pudding rice or risotto rice.
Prepare 400 ml of coconut milk. Alternatively use regular milk with dash of vanilla essence.
Prepare 300 ml of milk.
You need 50 g of sugar.
Prepare Knob of butter.
It's of Grated nutmeg.
I teamed up with Minute® Instant Jasmine Rice to share this quick and easy Coconut Rice Pudding recipe with you! Pudding with leftover rice – This will save a lot of time. Add fruits – Such as fresh mangoes, bananas, blueberries, raspberries, pineapples, strawberries. Mix them in at the end or use them as a garnish, before serving.
Coconut rice pudding step by step
Gather ingredients. Heat oven to 150 degrees (low heat)..
Add all ingredients to an ovenproof dish and stir well..
Bake for 2 hours.
If too thick for your taste then stir in extra milk. Also add fresh fruit topping for extra flavour..
This Crock Pot Coconut Rice Pudding is a rich and creamy dessert made with milk, rice, cinnamon, cream of coconut and vanilla. DISNEY'S COCONUT RICE PUDDING This recipe for coconut rice pudding I am sharing was a dessert from our first night on board our first Disney Cruise. In a large pot, place the rice, whole milk and coconut milk together over high heat. When the mixture starts boiling, place the lid and reduce the heat to low. Pour in the condensed milk, heavy cream and cinnamon.