Vegan Cheesy Vegetable Bake. Creamy, rich and full of seasonal vegetables and soft vegan cheese, this hearty and delicious Vegan Vegetable Bake makes a great side or main dish! This Vegetable Casserole is easy to make, satisfying, made with green beans, corn, and comes with a vegan cheesy sauce and a crunchy topping. It will be a keeper in your family all year round, but especially for the holidays, Thanksgiving, and Christmas.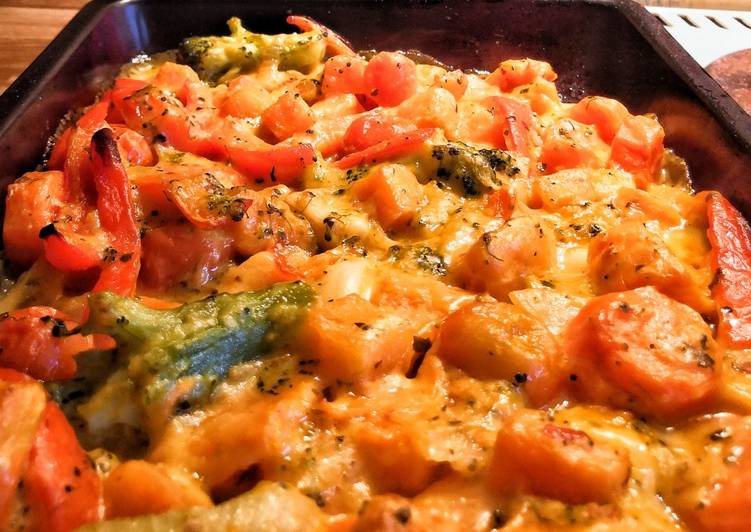 Vegan Cheesy Cauliflower Bake Tips, Substitutions and Variations. While this recipe is easy to make, keep in mind these tips: If possible, select vegan cheese shreds that melt. Vegan cheese can be difficult to melt, but when added to a sauce, it tends to melt more easily. You can have Vegan Cheesy Vegetable Bake using 19 ingredients and 11 steps. Here is how you cook it.
Ingredients of Vegan Cheesy Vegetable Bake
You need of Vegan cheese sauce.
It's 3 slices of Violife vegan cheese.
Prepare 300 ml of plant-based milk.
You need 2 tbsp of nutritional yeast flakes (optional).
It's 1 pinch of turmeric (optional).
It's of Vegetable bake.
It's 3 tbsp of olive oil (or other oil).
Prepare 5 cloves of garlic.
It's 1 of onion.
It's 1 tsp of oregano.
You need 1 tsp of parsley.
Prepare 1 pinch of salt.
You need 3 tbsp of sweet chilli sauce.
Prepare 2 of sweet potatoes.
Prepare 4 of carrots.
Prepare 10 of florets of broccoli.
It's 1 of red bell pepper.
Prepare 1 of butternut squash.
You need 10 of cherry tomatoes.
Classic eggplant Parm is filled with cheese, but this vegan eggplant Parmesan combines nondairy mozzarella cheese with nutritional yeast for a dairy-free cheesy substitute that gives you the comfort food factor without animal products. In a medium bowl, mix together vegan cheese sauce, vegetable broth, and garlic powder. Then, place quinoa on the bottom of your casserole dish and pour on the cheese mixture. Cheesy Vegetable Bake Be the first to rate & review!
Vegan Cheesy Vegetable Bake step by step
Preheat the oven and baking tray to 200°C (~390°F)..
Peel the sweet potatoes and carrots, then chop them into chunks. Remember to top and tail the carrots beforehand..
Slice off the ends of the butternut squash, then peel it and cut it in half from top to bottom. Scoop out the seeds with a spoon, then cut the butternut squash into chunks..
Top and tail the red bell pepper, then cut it into slices..
Finely chop the onion and garlic cloves..
Pour the plant-based milk (preferably soya) into a non-stick pan. Shred the slices of vegan cheese and add them to the milk. Add the turmeric and nutritional yeast flakes. Stir on high for 5-10 minutes, or until the cheese has melted and you have created a sauce..
While cooking the cheese sauce, add all of the vegetables (including the broccoli), apart from the butternut squash and red pepper, to a pan full of hot water. Bring to the boil and boil for 5 minutes..
Whilst boiling the vegetables and cooking the cheese sauce, sauté the onions and garlic with oil in a wok for 5 minutes..
Add sweet chilli sauce, salt, oregano and parsley to the wok and stir..
Drain the vegetables and add them, as well as the vegetables you didn't boil, to the wok along with the cheese sauce and stir. Remember to add the tomatoes!.
Transfer the mix from the wok to the baking tray and put in the oven for around 30 minutes and serve! Enjoy!.
Using reduced-fat cheeses lowers the fat content of this recipe but does not compromise flavor. Layers of cheesy vegan béchamel sauce, thin sliced Creamer potatoes, and sliced broccoli florets, all topped off with a toasty, herb and garlic bread crumb topping. This Cheesy Vegan Potato & Broccoli Casserole is a great side dish and perfect for those chillier months. December's a pretty good month for casseroles, isn't it? Heat a skillet over medium high heat & add oil, onions & red peppers.