Graveyard Dirtcups. Dirt cups are a fun and kid-friendly treat, easy to make an even easier to eat. This Halloween graveyard version adds a splendidly spooky monster cookie and slimy gummy worms. This treat in a cup will turn a kids' favorite treat into a Halloween favorite.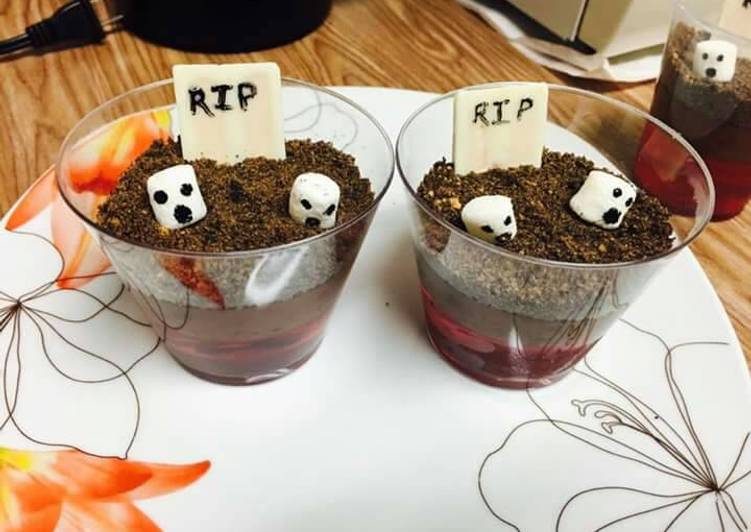 Top the pudding cups with the dirt. Place one gummy worm, one pumpkin on each dirt cup. Bring back a timeless classic to entertain the kids this Halloween season. You can cook Graveyard Dirtcups using 9 ingredients and 7 steps. Here is how you achieve it.
Ingredients of Graveyard Dirtcups
Prepare 7 oz of Instant Chocolate Pudding.
You need 7 oz of Strawberry Jell o.
You need of Kit kat chocolate bar 1.
Prepare 1 of Food color black.
You need 6-7 of Marshmallows.
You need 7-8 of Oreo cookies.
Prepare 2 cups of cold milk.
You need 1 cup of hot water.
Prepare 1 cup of cold water.
We have updated the classic recipe to be a perfect dessert to make with the kids. Only treats and no tricks with this Graveyard Dirt Cups recipe. Our Graveyard Dirt Cups are a diabetes delight. If they aren't reason enough to throw a Halloween party, we don't know what is!
Graveyard Dirtcups instructions
Crush the oreo biscuits to make a coarse powder….
Prepare strawberry jelly and pour into glasses. keep in refridgerator for 30 min to set..
Prepare chocolate pudding by mixing 2 cups cold milk into instant pudding mix..
When jelly sets, add pudding layer on top of jelly..
Add crushed Oreo on top of pudding..
With black food color decorate Not Kay bar as RIP and marshmallows as boos..
Serve chilled…
They will wow all your guests, adults and kids alike! Graveyard Dirt Cups are simply a mixture of NABISCO Go-Paks! cookies and Snack Pack® Pudding with Reddi-Wip ghosts on top. It's so easy to just mix the cookies and pudding right in the Go-Pack cup, then decorate the outside with a cute pumpkin face. Where to Find the Ingredients I found all of the ingredients for this recipe at Walmart. Ghoulish Graveyard Dirt Cups // Photo: @sherriesavorsthecity I like the novelty of getting your own cup and enjoying it a mouthful at a time.