Mashed potato and cauliflower casserole. Stir together mashed potatoes and cauliflower mixture in a large bowl and season with salt and pepper. Mashed potato and cauliflower casserole Taylor Topp USA. Arrange the potatoes and cauliflower in the prepared casserole dish.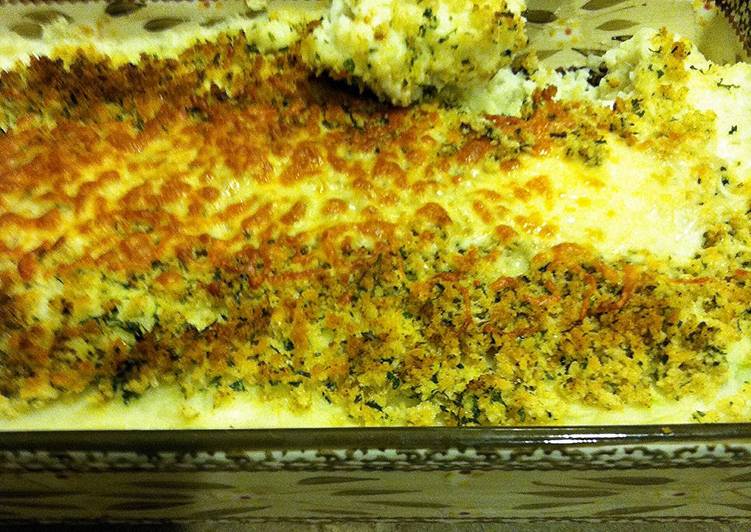 Combine cauliflower & potatoes in a large pot & cover with cold water – add a heaping tablespoon of salt. Add the cauliflower to the basket, and cook until the potatoes and cauliflower are tender. While the cauliflower and potatoes are simmering, turn your broiler on and place oven rack on one spot below the middle. You can have Mashed potato and cauliflower casserole using 12 ingredients and 7 steps. Here is how you cook it.
Ingredients of Mashed potato and cauliflower casserole
You need of casserole.
You need 1 1/2 lb of yukon gold potatoes, peeled and cut into 1/2 inch slices.
You need 1 head of of cauliflower, stem removed and sliced lengthways.
It's 6 clove of garlic thinly sliced.
Prepare 1 1/2 tsp of sea salt.
You need 8 oz of room temperature cream cheese.
You need 1 1/2 cup of half and half.
Prepare 3 oz of romano cheese, grated.
Prepare 2 tbsp of green onions.
You need 1/4 cup of melted butter.
You need 1 cup of panko japanese breadcrumbs.
You need 1 tsp of pepper.
Place a steamer insert into a saucepan and fill with water to just below the bottom of the steamer. The best potatoes for baking in a casserole or even scalloped potatoes are Yukon or a Russet potatoes. So if you are looking for a new casserole side dish to try, I hope you give this Cheesy Potato & Cauliflower Casserole a try and. In a casserole of boiling salted water, cook diced potatoes, cauliflower, garlic until vegetables are tender.
Mashed potato and cauliflower casserole instructions
Preheat oven to 350°F..
In a large pot of boiling water, add potatoes and cauliflower. Cook 15-20 minutes or until potatoes are tender..
Drain. In several batches place potatoes and cauliflower through a ricer. In large mixing bowl,add in salt, pepper,cream cheese, garlic and half and half. Mix well..
Place mixture into a greased 11"by 7" baking dish..
Mix together chives, breadcrumbs, romano cheese and melted butter. Sprinkle on top of potatoes ..
Bake for twenty minutes. Put under broiler for two minutes to finish..
Recipe by taylor68too.
Drain and mash with hot heavy cream and butter. My Mashed Potato Casserole with Cauliflower Gravy has a layer of mashed potatoes, then a layer of cauliflower gravy, then a final layer of minced broccoli. The mashed potato layer has an undetectable can of white beans mixed in for protein and the gravy has pureed cauliflower in it as well as mushrooms. It is creamy, dreamy, and just mhmmmm…. Add chicken broth and mash until desired consistency.