Sweet potato fritters. Try Creating This Sweet Potato Pie With Marshmallow Meringue. Drain, squeezing to remove excess liquid. Combine the grated sweet potato, flour, cornmeal, onion, egg, and sprinkle of salt and pepper and mix well with a fork.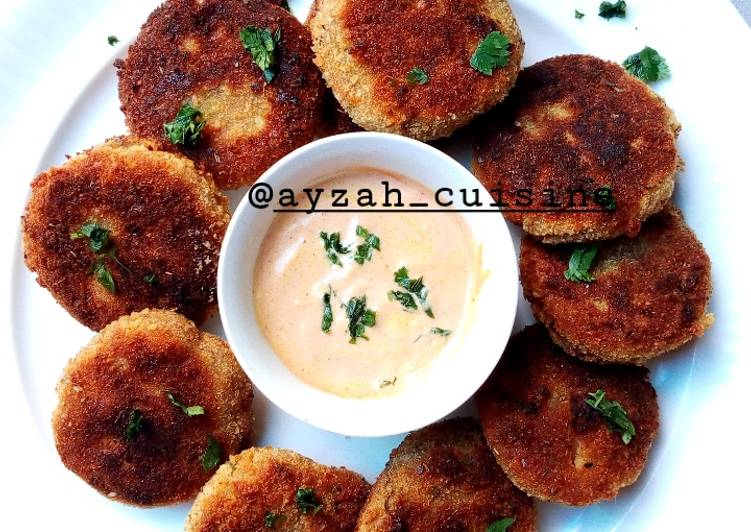 Baked sweet potato fritters are a delicious and healthy recipe. This easy fritter recipe is a perfect side dish or appetizer. I am always looking for alternative ways to serve yams and sweet potatoes. You can have Sweet potato fritters using 12 ingredients and 8 steps. Here is how you cook that.
Ingredients of Sweet potato fritters
Prepare 2 of large Sweet potato's.
You need 1/4 cup of bread Crumb's + 1 cup for coating.
You need 2 of Scotch bonnet pepper.
You need 1/2 of onions.
You need 1 tsp of salt.
You need 1 tsp of curry.
Prepare 1 tsp of paprika.
You need 1 tsp of black pepper.
Prepare 3 of seasoning cubes.
It's 1 tsp of dry herbs.
You need 1 tbsp of corn flour.
It's of Cooking oil.
Using your hands, take a handful of the sweet potato mixture and form. Sweet Potato fritters are an easy recipe to make. It is a delicious way to use up your mashed sweet potatoes. They are a fabulous as an accompaniment to Jerk Chicken and a salad.
Sweet potato fritters step by step
Cook the Sweet potato's to tender(do not over cook).
Drain and mash the potatoes,add seasonings cube,paprika,curry,dry herb,Scotch bonnet pepper(crushed)onions and bread crumbs.
Mix every thing together, make it into round shape and then flatten it to give you the shape as seen in the picture.
In a small bowl combine corn flour with some water,add black pepper and set aside.
Mix the bread crumbs with some salt and dry herbs and set aside.
Dip each fritters in the corn flour mixture and coat with bread crumbs.
Heat about 2-3 tbsp oil in a pan and shallow fry the fritters until golden brown on both sides.
Serve with any dipping sauce of your choice.
Alone the sweet potato mixture provides a surprisingly tasty snacking experience. Check out our Sweet Potato Fritters recipe. Start by sautéing onion and shredded sweet potato in avocado or coconut oil and seasoning with salt and pepper. This adds a caramelized flavor and also softens the veggies before adding them to the quinoa and eggs. Next, add chopped greens (we like spinach) and cook briefly until wilted.