Kit-Kat Lemon Cake. Cover the top of the cake with sliced fruit, chocolate candy, rainbow sprinkles or anything you desire. For a lovely presentation, tie a bow with a thick ribbon around the Kit Kat-lined cake. As consumer demand for more flavor creativity grows, Kit Kat (and its parent company Hershey's) have been delivering with new releases like Sweet Cinnamon during the Holidays, Mint Chocolate Duo, and most recently Raspberry Crème and Lemon Crisp.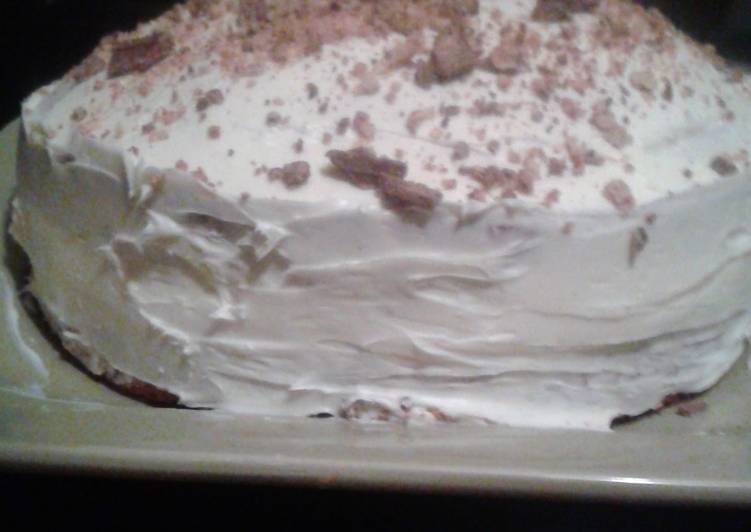 A fresh new way to squeeze in some delicious Easter breaks. The Kit Kats make the crust, of course. Simply done, they're demolished in the food processor and pressed into the bottom of a square pan- no additions needed. You can have Kit-Kat Lemon Cake using 10 ingredients and 10 steps. Here is how you achieve that.
Ingredients of Kit-Kat Lemon Cake
It's 1 box of Duncan Hynes Lemon Cake Mix.
Prepare 3 of Eggs.
Prepare 1 cup of water.
It's 1/2 cup of vegetable oil (add little extra for a moister cake).
Prepare dash of ground cinnamon.
It's 1 of a drizzle of honey.
You need 1 can of Betty crocker cream cheese frosting.
It's 1 of crushed up kit-kat bar.
It's 2 of round cake pans.
Prepare 1 of non-stick spray and/or crisco.
Stock up for the holidays and all year round.. For a wide assortment of Kit Kat visit Target.com today. Choose from contactless Same Day Delivery, Drive Up and more. So imagine lemon cake with the crunch of Kit Kat's iconic crispy wafer!
Kit-Kat Lemon Cake instructions
Preheat oven to 350°F. In a large mixng bowl put cake mix, water, eggs and oil and mix until all lumps are gone and mix is completely dissolved..
Spray or coat pan with crisco.
Evenly pour mix into both cake pans.
Drizzle a little honey over both cakes and add a dash of cinnamon (however much u prefer).
Put cake in oven for about 25-28 minutes until center is firm and fluffy.
Let cake cool in pan at least an hour.
Take out first cake and put on to a plate. Cover the first half with frosting..
Then take kitkat bar and crush it. Pour a little on top of cake.
Then put other cake on top and cover top half with frosting. And add the rest of candy ontop of cake..
Enjoy (:.
Of all the Kit Kat flavors the brand has released over the years, which one has been your favorite? I think I still have a soft spot in my taste buds for the original, classic flavor, but I do love the recently released Kit Kat Raspberry + Creme. We've recently been blessed with a handful of limited-edition Kit Kat flavors. It's hard to follow an act like Lemon Crisp and Raspberry Creme, which were released last summer, not to mention two new Duos flavors—Mint + Dark Chocolate and Mocha + Chocolate. But Kit Kat may have bested themselves with this celebratory flavor: Birthday Cake.