Leftover Pork Chops & Rice. These delicious homemade steamed shrimp dumplings get their flavor from a savory mix of shiitake mushroom caps, green onions, garlic, tofu, and boneless pork loin chops. To adapt the recipe to use cooked pork instead of raw, simply toss finely diced meat with the mushroom mixture in the same step as the tofu, salt, pepper, and and sesame oil. Leftover Pork Chops Can Be Great The Next Day We had some leftover pan roasted pork chops that needed to be used up and because of the heat I wanted to keep it simple.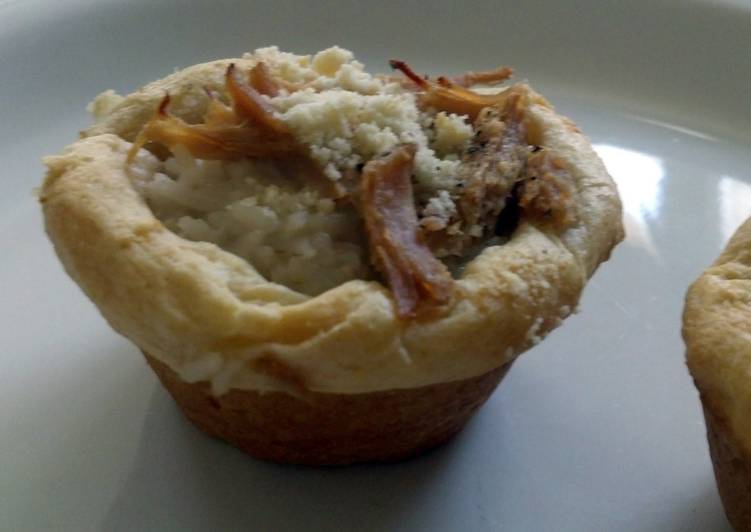 The Best Leftover Pork Chops Recipes on Yummly Easy Seasoned Pork Chops, Very Berry Pork Chops, Cheesy Spinach Stuffed Pork Chops Pork isn't always the fastest thing to cook, so using up leftovers can result in quick pork-based dishes for weeknights. Use fattier cuts, such as pork belly, sparingly to add loads of flavor without too many extra calories. You can have Leftover Pork Chops & Rice using 6 ingredients and 10 steps. Here is how you cook that.
Ingredients of Leftover Pork Chops & Rice
Prepare 1 can of cream of mushroom soup.
You need 2 cup of instant rice.
You need 2 can of crescent rolls.
You need 1 of parmesan cheese.
Prepare 1 of muffin tin.
You need 2 of leftover pork chops.
Pork tenderloin is an ideal choice for a main dish due its ability to be sliced, shredded, or chopped. Others may just see leftover pork, but we see a world of delicious possibilities. Pork, known for its speedy cooking time and tender meat, is a great alternative to ham or beef tenderloin for a big family meal. The best part is that it can be prepared in so many different ways—from roasted on a sheet pan to smoked or slow-cooked, the renditions of pork are endless.
Leftover Pork Chops & Rice step by step
Preheat oven to 350°..
Cook rice according to the directions..
Shred your leftover pork chops. Set aside..
Mix the can of soup with one can of water, set aside..
Open crescent rolls but do not unroll them. Cut the crescent rolls so you have one chunk per cup in your muffin tin. (I had a12 cup tin so I cut each roll into 6 pieces).
Flatten each chunk of crescent roll into a round flat shape. You want it wide enough that when you place it in the muffin tin it will cover the sides..
Place the crescent rolls into your prepared muffin tin. (Spray your muffin tin with cooking spray).
Mix your cooked rice with your soup..
On top of each crescent roll divide 3/4 of the shredded pork evenly. Add the rice and soup mixture. Top with the remaining pork and sprinkle with parmesan cheese..
Bake for 15 minutes until the crescent roll is lightly brown. Enjoy!.
Add the cubed pork chops to the skillet and continue to cook until heated. In a large bowl, mix soup, sour cream, and cheese together. Fold hashbrowns and beans into the soup mixture along with the creole. In a skillet, saute the onion, red pepper and celery in oil until crisp-tender. Add the pork, carrots, mushrooms, gravy, broth, soy sauce and pepper.