Creamy Broccoli & Stilton Soup. Broccoli cooked in a creamy garlic butter sauce and topped with cheese and bacon all in one pan! This flavorful creamy dish is a delicious keto side or a whole meal on its own! Creamy, garlicky and cheesy basically sums up my life.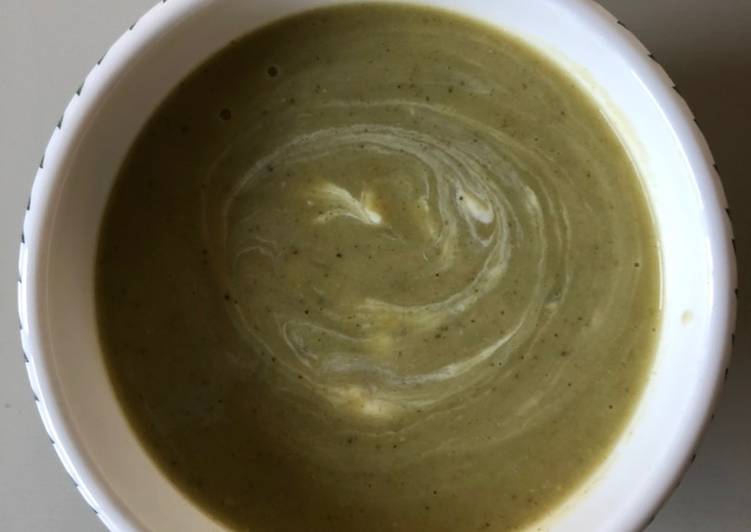 Place on serving dish and top with Cream Sauce. Directions In a large bowl, combine the soup, mayonnaise, pecans, onion and eggs. Creamy Broccoli & Bacon in a Garlic Parmesan sauce is a delicious broccoli recipe and side dish! You can cook Creamy Broccoli & Stilton Soup using 12 ingredients and 9 steps. Here is how you cook that.
Ingredients of Creamy Broccoli & Stilton Soup
Prepare 1 head of Broccoli, roughly chopped.
It's 2 of large Onions, chopped.
Prepare 2 sticks of Celery, in 1 cm slices.
It's 3 cloves of Garlic, chopped.
You need 2 of Potatoes, diced.
It's 1 of Leek, in 1 cm slices.
You need 1 3/4 litres of Ham stock. I used ham stock from a large gammon joint cooked the previous day but, if homemade stock isn't available, good quality stock cubes work fine.
You need of Oil.
You need of Butter, preferably unsalted.
It's of Ground black pepper.
It's of Crème Fraîche.
It's 200-250 g of Stilton cheese.
Pan fried broccoli and crispy bacon are baked in a cheesy creamy parmesan garlic sauce topped with bubbling mozzarella. Creamy Garlic Parmesan Broccoli is guaranteed to convert ANY non-vegetable lover to fall head over heels! Place broccoli and onion into a saucepan, pour in water, and bring to a boil. However it's great if you want cream of broccoli with fewer calories – a very tasty compromise.
Creamy Broccoli & Stilton Soup step by step
Heat the oil in a stockpot or very large saucepan. Add the onions and gently fry for two minutes, resisting the temptation to stir unless the onions appear to be sticking. If so, add a splash of water..
Add the garlic, stir and fry another minute..
Add the celery and leeks and a generous knob of butter. Stir to ensure all the veg are coated with a little oil/butter and continue to fry gently for another three minutes..
Add the potatoes and any well-chopped broccoli stalks, stir and then add the stock. Stir well and then add the rest of the broccoli. Cover and bring to the boil..
Reduce the heat, stir well and leave on a medium simmer for 25 minutes or until the vegetables are softened..
Stir, taste and season with pepper but not salt. Remove from heat..
In batches, whizz in a blender to a smooth consistency. Transfer to a saucepan and reheat..
Crumble the Stilton cheese into the hot soup and give it all a good stir until it has melted..
Serve piping hot with a small dollop of crème fraîche per individual bowl. Accompany with granary bread or crusty roll. Not too much soup or bread if the soup is just a starter as this soup is fairly filling..
A made-from-scratch Broccoli Casserole with tender broccoli baked in a creamy cheese sauce. Also known as Broccoli Gratin, this is arguably the ultimate way to consume tons and tons of broccoli! You'll find many creamy broccoli soups are made with a roux, being melted butter mixed with flour which thickens the soup, then broccoli pieces are tossed in and cooked in that thickened soup. I prefer making broccoli soup by cooking the broccoli until soft then blitzing it up to make a naturally thick and creamy soup. Stir in broccoli and return to a simmer.