Wet fry chicken. Chicken wet fry (kuku wet fry) is up on the YouTube channel link in Bio. #chickenwetfry #kukuwetfry #kenyanrecipes #kenyandishes #kenyanfood #kenyanmeals. As it's a wet fry, the bird is coated in a thick tomato sauce with a tonne of onions! What makes this dish so tasty are the fried onions which add so much goodness to the dish.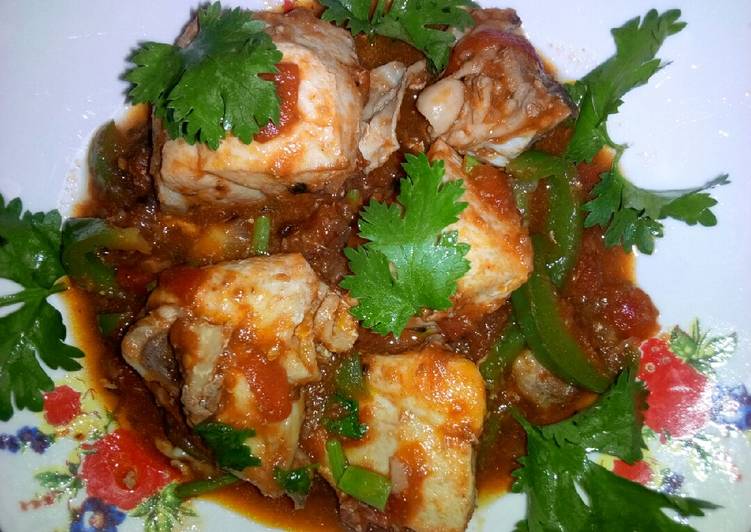 If it is not hot enough then your chicken will sit in the oil longer and become greasier. Dunk one piece of chicken into the wet batter. Add the wet chicken piece back into the "Dry Mix" and completely cover the chicken in the mix. You can have Wet fry chicken using 9 ingredients and 7 steps. Here is how you achieve that.
Ingredients of Wet fry chicken
It's 1/4 kg of broiler chicken.
It's 2 of big tomatoes.
You need 1 of big bulb onion.
You need of Ginger.
You need of Garlic.
Prepare of Cooking oil.
It's 1 of big sweet pepper.
Prepare of Coriander.
Prepare To taste of salt.
Use your hand and press the dry mix into the chicken and squeeze the chicken. Remove the chicken from the dry mix and shake out the flour to create the nooks and crannies. Have one "wet hand" and one "dry hand" — and use your "wet" hand to transfer chicken from the wet mixture to the coating bowl. Place the coated chicken on the parchment- or wax paper-lined baking sheet.
Wet fry chicken step by step
Prepare all your ingrediates.
To a cooking pot, put your pieces of chicken, ginger paste and salt then add a little water to cook for 10 minutes.
When dry, to a different pot, put cooking oil and when hot add the diced onions.
Let the onions fry until golden brown, add the sweet peppers and the garlic paste. Let it cook for a minute.
Add diced tomatoes, cover to cook the tomatoes until they form a uniform paste.
Add the boiled pieces of chicken to the paste, add a little water to cook then stir.
Cover with a lid to cook for 3 minutes then serve with an accompaniment of choice.
Before easing the coated chicken pieces into hot fat, allow them to rest, which will give the coating a chance to adhere. Moisten each piece of chicken with a little water, then dip in the dry mix. Shake off excess and dip in the wet mix, then dip in the dry mix once more. In a medium size bowl, beat the eggs. Season the chicken with the House Seasoning.