Old-fashioned Buttermilk Pie. Check Out Buttermilk Pie On eBay. Fill Your Cart With Color Today! Old Fashioned Buttermilk Pie This Old Fashioned Buttermilk Pie is a mix of flakey crust, smooth vanilla filling, and a pinch of ground nutmeg.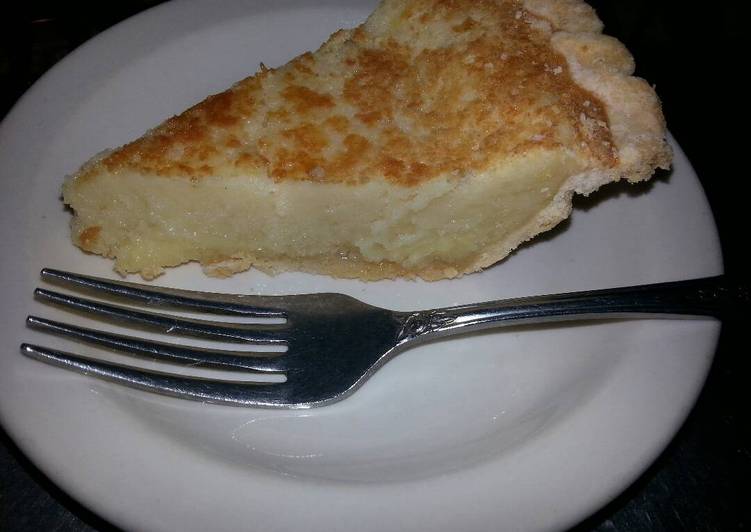 In a large bowl, mix flour and salt. Gradually add milk and egg and mix well. On a floured surface, roll dough out very thin. You can cook Old-fashioned Buttermilk Pie using 8 ingredients and 9 steps. Here is how you cook it.
Ingredients of Old-fashioned Buttermilk Pie
Prepare 1-1/2 cups of sugar.
You need 3 tablespoons of all-purpose flour.
It's 1 pinch of salt.
You need 1/2 cup of butter (1 stick), melted.
It's 1 teaspoon of vanilla.
Prepare 3 of eggs, beaten.
You need 1 cup of buttermilk.
Prepare 1 of unbaked deep dish pie crust, homemade or store-bought.
Buttermilk pie has a custard filling that's smooth and sweet. Use a deep pie plate for this recipe so that your filling doesn't bubble over while cooking. This is sort of like a vanilla custard, meets lemon meringue pie, meets very light cheesecake. Ever since I can remember, I can recall a buttermilk pie sitting on the dessert table somewhere during a church event.
Old-fashioned Buttermilk Pie step by step
Preheat oven to 400°F..
In a mixing bowl, mix together sugar, flour, and salt..
Add melted butter and mix with a wooden spoon until well-mixed..
Add vanilla and mix in well..
Add eggs and mix in well..
Add buttermilk, a little at a time, mixing well each time, until all buttermilk has been mixed in..
Pour filling into pie crust..
Bake at 400°F for 10 minutes. Then reduce heat to 350°F and bake for another 50-60 minutes, or until the pie is golden brown and a knife inserted near the center comes out clean..
Allow to cool for a while before serving. Pie can be served warm or cold..
Old-Fashioned Buttermilk Pie has a super smooth, custard-like filling that is really sweet. In a small bowl, combine the sugar and flour. Add the beaten eggs, melted butter, buttermilk and extract. Pour into the prepared pie crust. Let cool completely on a wire rack.