Mozzarella Stuffed Chicken with Spaghetti in Cream Sauce. Cut mozzarella into rectangular slices and fold into chicken centers. Season with oregano, basil, salt and pepper. Stir in three-quarters of the shredded mozzarella and cheddar; cook until cheeses melt.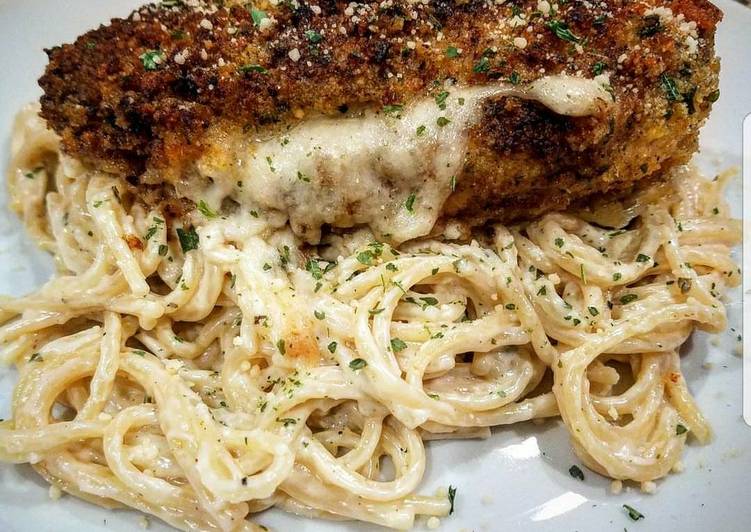 Using a sharp paring knife, cut a deep slit into each chicken breast. Stuff pockets with mozzarella then press edges of the chicken together to seal the chicken. Mozzarella Chicken is a fabulous weeknight dinner, made up of a rich, made from scratch tomato-based sauce, linguine pasta and chicken all topped with melty cheese. You can cook Mozzarella Stuffed Chicken with Spaghetti in Cream Sauce using 16 ingredients and 13 steps. Here is how you achieve that.
Ingredients of Mozzarella Stuffed Chicken with Spaghetti in Cream Sauce
It's 3 of large chicken breasts.
It's of Fresh mozzarella (block).
Prepare 1/2 box of thin spaghetti.
You need 2 Tbsp of butter.
It's 1 1/2 cups of Italian breadcrumbs.
It's 1/2 cup of plain panko.
It's 2 cups of grated parmesan.
It's 1 cup of heavy cream.
You need 3/4 cup of butter.
You need 1 Tbsp of dry italian seasoning.
Prepare 2 Tbsp of fresh parsley.
You need 1 Tbsp of garlic seasoning.
It's 1 tsp of salt.
It's 1 tsp of pepper.
You need 1 Tbsp of minced garlic.
It's of Olive oil.
The easiest garlic butter baked chicken with mozzarella. Tender chicken breasts cooked in garlic butter sauce then topped shredded mozzarella cheese. Comes with the most flavorful pan sauce for your quinoa, rice, pasta, or veggies! Here's the perfect way to kick off a Monday. jumbo pasta shells • frozen breaded chicken patties • spaghetti sauce • ricotta cheese • container Chive & Onion Cream Cheese Spread • egg • grated parmesan cheese • Seasonings: pepper, Italian sng., basil, oregano, garlic powder Broil the Chicken and Mozzarella in the Sauce.
Mozzarella Stuffed Chicken with Spaghetti in Cream Sauce step by step
Slice chicken breasts horizontally on one side to make long "pockets" in center..
Cut mozzarella into rectangular slices and fold into chicken centers..
Mix: breadcrumbs, panko, 1/2 cup grated parmesan, Italian and garlic seasonings, 1 Tbsp fresh parsley, and salt and pepper..
Melt 1/2 cup butter..
Dip chicken breasts into butter, coating both sides, then cover in breadcrumb mixture, being careful to keep the mozzarella securely inside..
Pour enough olive oil into a pan (on medium heat) to coat the bottom. Melt 2 Tbsp butter in pan..
Cook chicken breasts on stove for two minutes per side (or until your preferred color), then place on nonstick baking sheet. (Baking sheet with aluminum foil and Pam spray will work, too.).
Bake at 375 degrees for 25 minutes..
Melt 1/4 cup butter in medium saucepan over medium-low heat. Add heavy cream and simmer 5 minutes..
Add minced garlic and 1 1/2 cups grated parmesan to saucepan and whisk quickly until thick and smooth. Stir in 1 tbsp fresh parsley..
Cook spaghetti according to box instructions and preferred firmness, strain, and return to pot..
Pour cream sauce over spaghetti and stir..
Serve chicken breasts atop spaghetti, garnish with fresh parsley if desired..
Transfer chicken breasts back to the skillet. Top each chicken breast with shredded cheese. Turn up the heat to high and add the tomatoes. Once the sauce begins to boil rapidly, cover for about a minute. Make the Marsala sauce by browning the shallots, and simmering the Holland House Marsala Cooking Wine to concentrate the flavor.