Chicken Noodle Soup. Send Our Homemade Soups, rolls, and cookies in beautiful gift packaging! In a large pot over medium heat, melt butter. Pour in chicken and vegetable broths and stir in chicken, noodles, carrots, basil, oregano, salt and pepper.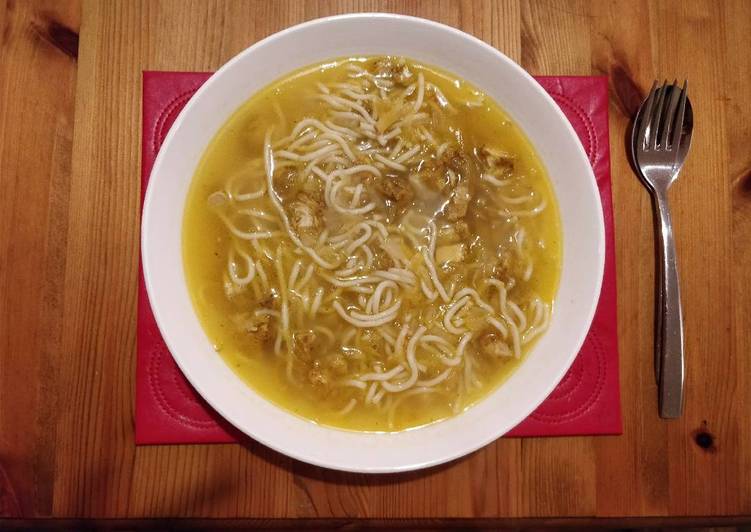 Nothing is as remotely comforting as a warm bowl of this classic. Melt butter in a large stockpot or Dutch oven over medium heat. Home style chicken noodle soup that really makes a wonderful side or meal, it cures what ails you. You can cook Chicken Noodle Soup using 12 ingredients and 6 steps. Here is how you cook that.
Ingredients of Chicken Noodle Soup
Prepare 2 tbsp of butter.
It's 1 of small, white onion, diced.
You need 1 of large, yellow carrot, grated.
It's 2 of Love Taste Co. Chicken bone broth pods.
Prepare 4 cups of water.
It's 2 of pre-cooked chicken breasts, shredded.
Prepare 2 portions of straight to wok noodles.
Prepare 1 tsp of coconut flakes.
You need 1 tsp of cumin.
You need 1 tsp of coriander.
You need Pinch of anise.
Prepare to taste of Salt and black pepper.
If you like lots of noodles use a whole pound of them. Serve hot with your favorite salad and bread. Comfort food shouldn't have to be complicated. Brimming with chicken, vegetables and egg noodles, and seasoned with fresh parsley, pepper, bay leaf and chopped garlic, this ch.
Chicken Noodle Soup instructions
Soften the onion and carrot in a pan with the butter..
Dissolve chicken broth pods into boiled water and add to pan..
Shred chicken breasts and add to pan, followed by coconut flakes and spices..
Bring to a rolling boil and turn down heat..
Add straight to wok noodles to the pan..
Simmer for a further 3 minutes, then serve..
Literally the BEST Chicken Noodle Soup has thick chicken chunks, sliced carrots and celery, wide noodles soaking in a smooth chicken broth filled with flavorful seasonings and cooked to perfection. A warm and comforting soup this winter! Warm up to this savory soup this winter time. Place a soup pot over medium heat and coat with the oil. Add the onion, garlic, carrots, celery, thyme and bay leaf.