Chicken Korma.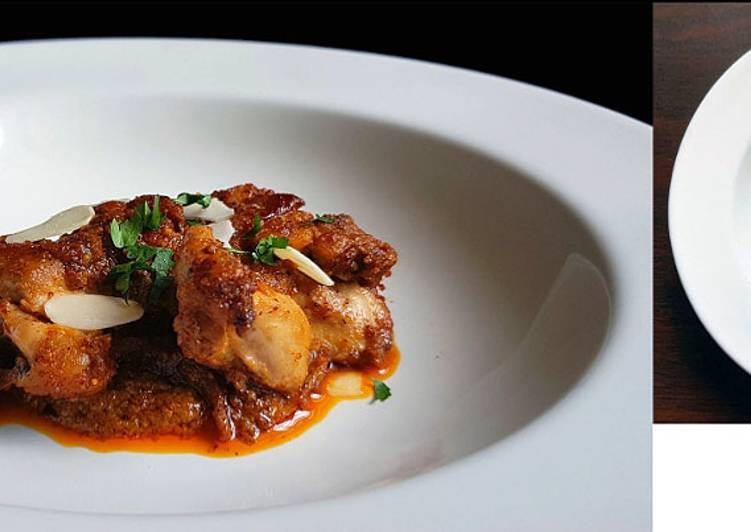 You can cook Chicken Korma using 31 ingredients and 19 steps. Here is how you achieve it.
Ingredients of Chicken Korma
You need of Chicken:.
It's 4 Pieces of Boneless Chicken Thigh,.
It's Pinch of Sea Salt,.
It's Pinch of White Pepper,.
You need Pinch of Dried Mushroom Powder,.
Prepare of Onions:.
You need 1 of Red Onion Thinly Sliced,.
You need of Canola / Peanut / Vegetable Oil, For Frying.
You need 2 TBSP of Corn Flour,.
You need of Garlic Ginger Paste:.
You need 15 g of Ginger,.
It's 15 g of Garlic,.
You need 1 TSP of Sea Salt,.
Prepare of Chicken Korma:.
You need 15 g of Ghee,.
Prepare 1 of Black Cardamon,.
Prepare 3 of Cloves,.
You need 3 of Green Cardamon,.
Prepare 1 of Cinnamon Stick,.
You need 3 of Bay Leaves,.
It's 7 g of Coriander Powder,.
Prepare 7 g of Kashmiri Chili Powder,.
It's 8 g of Demerara Sugar,.
Prepare 2 TSP of Kewra Water,.
It's 225 g of Greek Yogurt,.
It's 15 g of Cashew Nuts Ground,.
Prepare of Cream, 1/8 Cup Adjust To Preference.
You need 1/4 TSP of Nutmeg Freshly Grated,.
Prepare 1/4 TSP of Mace Powder,.
You need of Almond Flakes, For Garnishing.
It's of Fresh Coriander Coarsely Chopped, For Garnishing.
Chicken Korma step by step
Prepare the chicken. Coat the chicken well with salt, pepper and mushroom powder. I am leaving the skins on. You can remove the skins if desired..
Transfer into a shallow bowl and cover with cling film. Set aside in the fridge until ready to use. Prepare the onions..
In a skillet or pan over medium heat, add in about 2 inches of oil. *To check the temperature of the oil, insert a wooden chopstick, if bubbles start forming, the oil is ready for frying.* Toss the onion slices with corn flour..
Make sure the onion is coated well. Gently drop into the oil and shallow fry. Once the onion starts to brown, remove from heat and drain the oil into a large bowl..
Transfer the onion onto a chopping board. Chop the onion coarsely and set aside. Reserve the oil..
Prepare the garlic ginger paste. Add ginger, garlic and salt into a mortar. Pound until smooth paste forms with a pestle..
You can use a food processor if desire. I personally find that mortar and pestle are easier to wash.* Remove and set aside..
Prepare the chicken korma. In a skillet or pan over medium heat, add ghee. Once the ghee is melted, add in the chicken skin side down. Sear the chicken until the skin is golden brown..
Flip. Tilt the skillet and baste the chicken with all the liquid. Continue searing until bottom is golden brown as well. Remove from heat and set aside on a plate..
Using the same skillet or pan, add in 30g of that reserved oil. Transfer the cardamon, cloves, cinnamon and bay leaves in a tea bag. Over medium heat, add in the tea bag spices..
Saute until aromatic. Add in chili, coriander powder and sugar. Saute until toasty and the sugar has dissolved..
Add in the garlic ginger paste, a pinch of white pepper and kewra water. Saute until well combined. Add in 2 TBSP of the whipped yogurt. *Using a hand mixer, whip yogurt until light and creamy. Do not over whip.*.
Stir vigorously until well combined. Keep adding yogurt, 2 TBSP at time, and stirring until you have about 1 TBSP of yogurt left. Reserve the remaining yogurt..
At this stage, the oil should start separating from the spices. Add in the chicken skin side down. Stir lightly to coat the chicken..
Turn the heat down to low and bring it to a slow simmer. Cover and cook for 20 mins. *Stir occasionally to prevent burning. Flip the chicken at half way mark.*.
Add the remaining yogurt, ground cashew, the fried onion, nutmeg and mace powder. *To make ground cashew, simply, blitz cashew in a spice grinder until powder forms.* Stir to combine well..
Depending on your preference for consistency, add cream. Stir to combine well. *You can add in almond flakes and coriander now. Give it a final stir. Taste and adjust for seasoning with salt. Serve as it is.*.
If you would like the same as plated shown in the photos, taste and adjust for seasoning with salt. Give it a final stir. Dollop the sauce onto serve plates..
Place the chicken thighs over the sauce. Garnish with almond flakes and coriander. Serve immediately..